During every step of the automotive process, Toms River, Lakewood, and Brick drivers will likely turn to the internet for a bit of advice and information. You're bound to turn up tons of results with each question, some of which may be hard to sift through.
At Audi Toms River, we've condensed the simplest, straightforward answers into these equally straightforward Audi eBooks.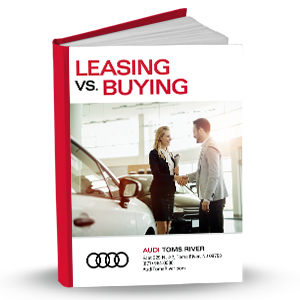 These eBooks Are Packed with Information
When it comes to your car, what kind of questions do you have? Do you need to learn about a certain spec or feature? Maybe you're just trying to figure out how to stay up-to-date on maintenance.
Regardless of what the case may be, we think you'll be able to find many of the right answers within our eBooks. We're constantly working to expand our library to help drivers just like you.
Our eBooks are completely free. If you'd like to download one for yourself, click one of the links on this page. We'll show you how.
Want Some In-Person Help?
Once you're done reading, you may want a more in-depth look at a vehicle or some other part of the automotive process. If so, don't hesitate to come in to speak to a member of our team.
For example, if you'd like to learn more about a car's specific features, you'll want to talk to one of our sales consultants. They know these cars like the backs of their hands and are more than happy to shed some light on them.
Likewise, our finance professionals and service technicians are at your disposal. You can contact us online or over the phone or even just visit the dealership in person for more information.
Your eBook is Just a Couple Steps Away
If you think one of these eBooks may be of use to you, just click on the link. You'll then be prompted to fill out an information form on a separate page. From here, the Audi Toms River team will follow up and get you your eBook.
Toms River, Lakewood, and Brick drivers can click on any of the links on this page to get started! If you have any questions, please don't hesitate to contact us online.